Turns a laptop into a desktop computer all around the world with the newest DOCK for the MacBook Pro with Retina display and docking stations for the MacBook Air
LandingZone 2.0 Pro dock seems like a must for those who use their Airs as a desktop computer most of the time (and just have a lot of wires in their life) – The Verge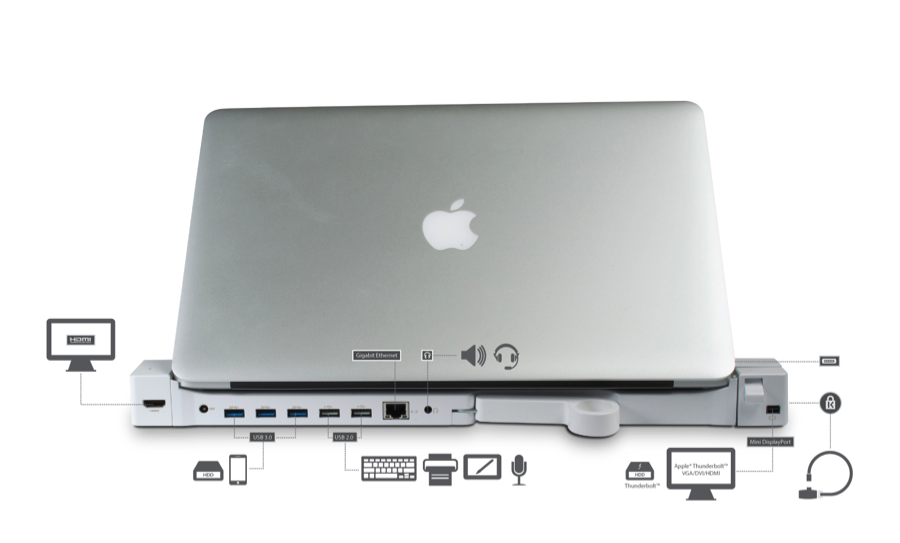 Hannover, March, 10, 2014 – In its first European appearance, LandingZone will present its entire line of docking stations for Apple® MacBook computers. Included is its newest model, the LandingZone DOCK for the MacBook Pro with Retina display, as well as its line of docking solutions for the MacBook Air.
This business-class line of docking solutions will be on display alongside products by LandingZone partner ORtek Technology, Inc at CeBIT in Hall 17, Booth No. C20/1.
LandingZone docking stations are peripheral accessories for MacBook computers that add interoperability for a range of devices: wired Ethernet, 4 or more USB ports, HDMI, Headphone port, and Thunderbolt monitors and devices. The computer docks to all of these connections quickly in a single step, and can be locked through a Security Slot compatible with most Kensington keyed laptop locks.
The DOCK for the MacBook Pro with Retina display adds three USB 3.0 and two USB 2.0 ports, Gigabit Ethernet, a Headphone port, a MagSafe 2 holder, a native HDMI pass-through, and a Mini DisplayPort that can be used with Thunderbolt and Thunderbolt 2 devices and monitors.
For an international audience, the 15-inch version is available now at LandingZone.net/Internationals. The 13-inch model can be pre-ordered on LandingZone.net for shipment in March.
The LandingZone 2.0 PRO works with all MacBook Air models released in 2012 and 2013, and connects four USB 3.0, Gigabit Ethernet, and Thunderbolt or non-Thunderbolt monitors and devices.
The LandingZone 2.0 LITE has dual USB 3.0 ports, which dock two USB devices at the same time for travelers and low-power users.
The original LandingZone 1.0 PRO for MacBook Air 2010-2011 was launched over Kickstarter in 2011. It offers older MacBook Air computers a security solution, while providing four USB 2.0 ports, 10/100 Mbps Ethernet, Mini DisplayPort docking to Apple and non-Apple displays.
Worldwide LandingZone products are online at LandingZone.net/Internationals. LandingZone products distributed in the US through D&H Distributing Co. and Dr. Bott.
About LandingZone
LandingZone is a unique line of docking stations designed in California by infiniWing, Inc. Founded in 2010 with offices in San Jose, California, infiniWing creates unique accessories for Apple products. LandingZone products are used worldwide by individuals, businesses and educational institutions. Like us at LandingZoneDock on Facebook, follow us on Twitter @landingzonedock, and visit LandingZone.net.