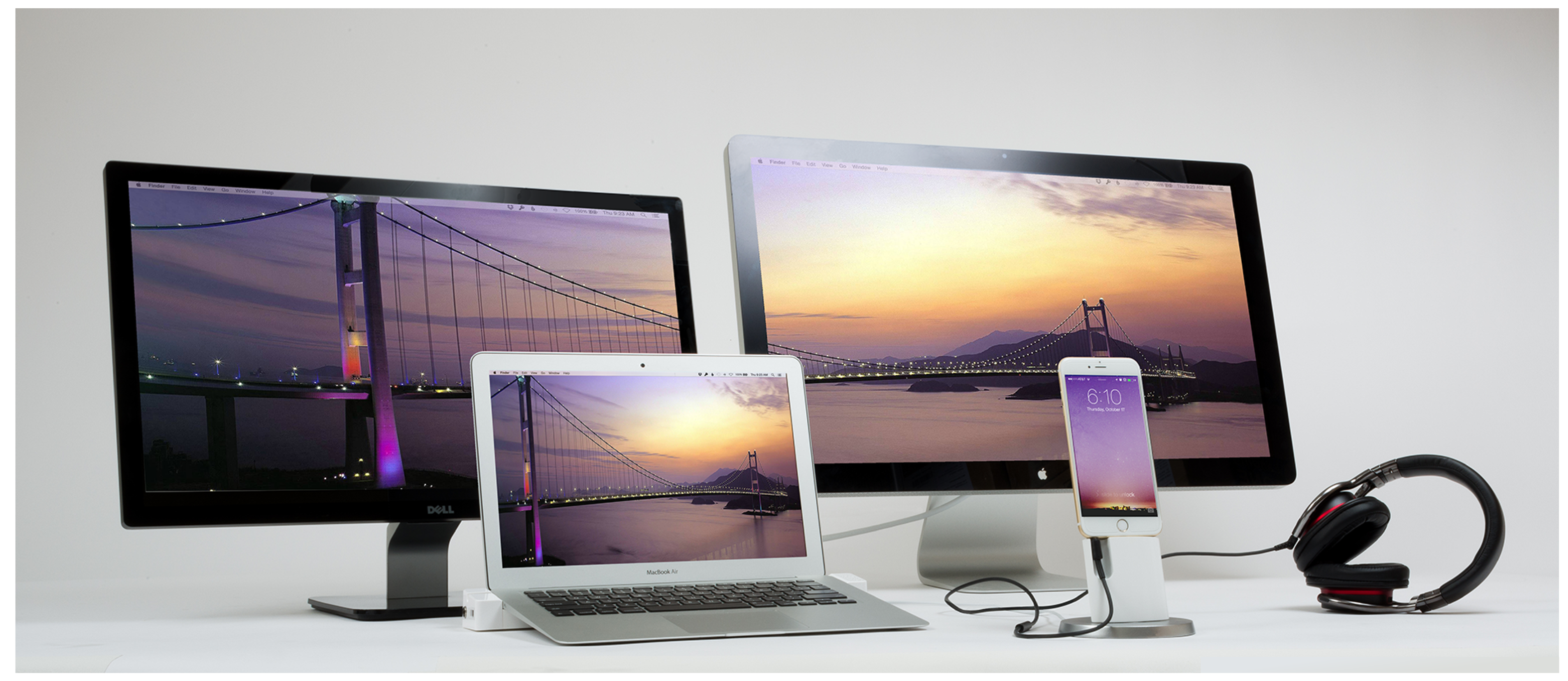 LandingZone's first iPhone dock delivers premium quality for iPhone 6s/6s Plus and more
San Jose, September 15, 2015. LandingZone, the leading manufacturer of MacBook docking solutions, introduces its first premium iPhone dock that works with Apple's new iPhone 6s/6s Plus as well as the earlier iPhone 6 and iPhone 5 series. IONA offers many unique features, including an elevated height, FaceTime swivel and the ability to accommodate the phone with and without cases.
IONA by LandingZone works alongside the LandingZone docking stations for the MacBook Air and MacBook Pro with Retina display, elevating the iPhone higher than other iPhone docks on the market to improve use alongside MacBooks and Apple displays.
With weighted Aluminum body and base, IONA weighs 1 pound to keep it secure on a desktop surface. IONA also features 120 degrees of rotation for sharing a FaceTime call or more accurately positioning the phone.
The dock allows the attachment of an audio jack for a speaker or wired headphone. During setup, the original Apple Lightning to USB Connector is positioned into the dock using one of four variable spacers (included) to accommodate cases of various sizes.
IONA is compatible with the new iPhone 6s/6s Plus, along with previous versions iPhone 5/5s, iPhone 6/6 Plus, and iPad Air and mini models. IONA provides LandingZone users with the opportunity to better incorporate the iPhone within the LandingZone desktop workspace.
Pre-Orders of IONA are now being accepted from www.LandingZone.net at a discounted Pre-Order price of $49.00, $10 off the original MSRP.
About LandingZone
LandingZone is a small Silicon Valley company committed to creating the best docking solutions for Apple products. They first started with the LandingZone docking station for the MacBook Air and have since expanded to providing docking solutions for the MacBook Pro with Retina display, iPhone, and iPad. They continuously strive for solutions that benefit their users and transform home and office into a more efficient, convenient, and hassle-free workspace.