Download Drivers
To use the Ethernet port of LandingZone, you need to install a software driver.
Remove your MacBook computer from the docking station before installing any Ethernet driver onto Mac OS X. Once you are undocked from the LandingZone, follow the instructions below.
For LandingZone 1.0 PRO
10/100 Ethernet driver for Mac OS X 10.10 (Yosemite), 10.9 (Mavericks), 10.8 (Mountain Lion), 10.7 (Lion), 10.6 (Snow Leopard)
Not what you're looking for? See other drivers
Ethernet Driver Version: 2.2.1
How to Install
For 10.7 (Lion) and 10.6 (Snow Leopard):
Once the file LAN9500-2.2.0.pkg download is done, just double-click it to install it automatically.
For 10.8 (Mountain Lion)
For Mountain Lion, the installation is a bit more complex since Gatekeeper is active for OS X 10.8. Follow the instructions on Apple's site to disable Gatekeeper, an application which prevents software installations from going on outside of the App store: http://support.apple.com/kb/HT5290
For 10.9 to 10.10 (Mavericks and Yosemite)
For Mavericks and Yosemite, the General Security & Privacy settings have been set at default to not allow downloads from the internet. You don't need to disable them. Go to System Preferences > Security & Privacy, then click the box accepting a download of LAN9500-2.2.0.pkg. The installation will begin right away.
After the driver installs and your computer restarts, the LAN95xx comes up as "LAN95xx" as an image below.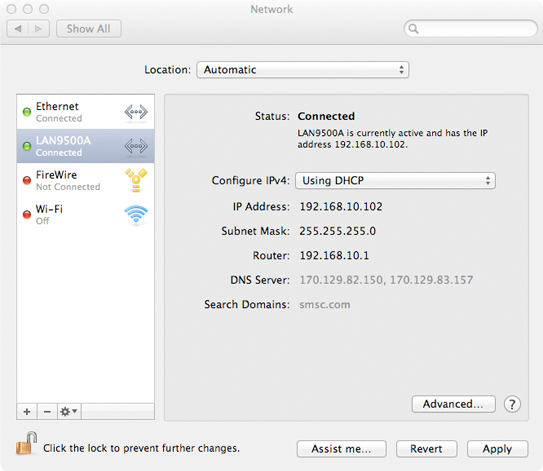 If it is not shown, add the interface by using "+" in "Network" configuration.
You can check the available interfaces from "Network Utility," as shown in the image below.