Customers also bought:

LandingZone 2.0 Pro
Your lightweight Macbook Air just got a whole lot more powerful with this stylish docking station. Turn your MacBook Air into a fully functional desktop system. No need to plug in cables each time you connect. Leave all your cables plugged in. This full 2.0 PRO version brings you a powered 4-port USB hub and Gigabit Ethernet, plus a Security Slot. This device works with the 13-inch and 11-inch MacBook Air® models released in mid-2012, mid-2013, mid-2014, and 2015 (Model A1465 and A1466)
$159.00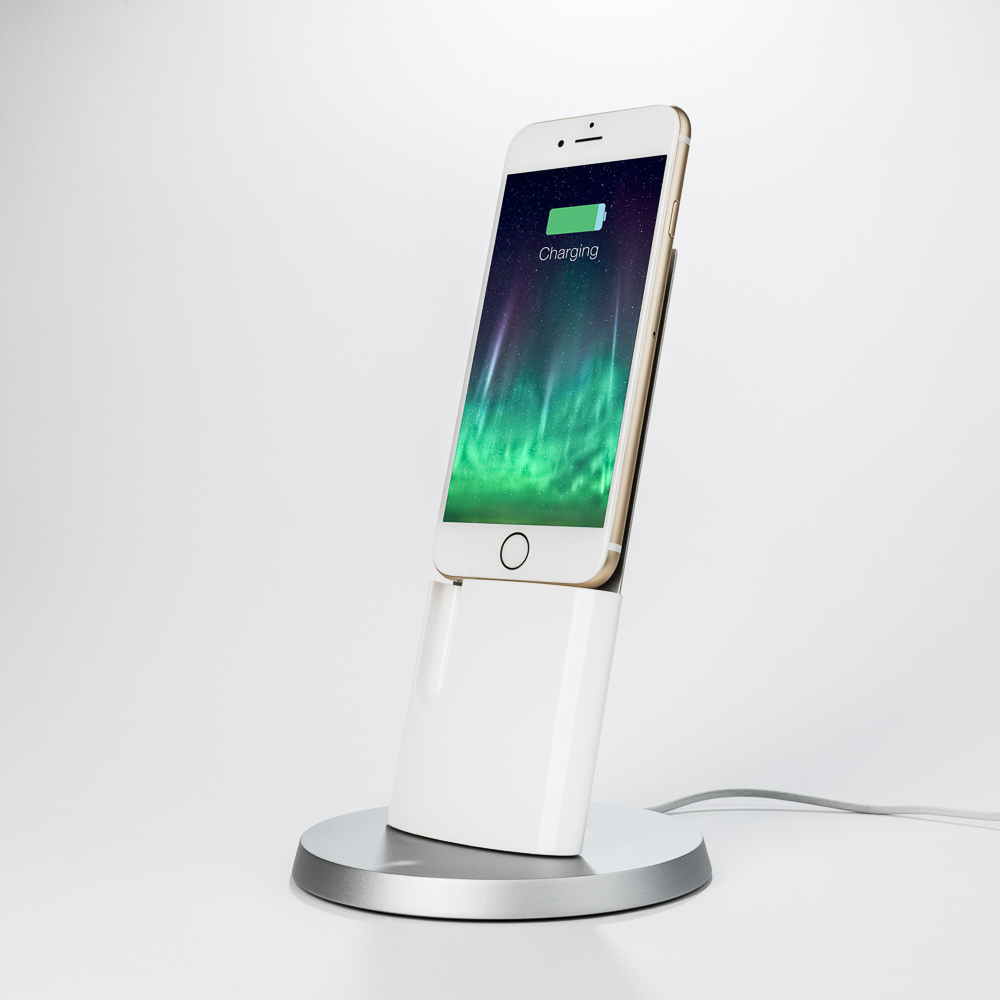 IONA
IONA by LandingZone is a premium iPhone and iPad charging stand. It comes with a 4.5-ft MFI Certified Lightning Cable.
$24.00

LandingZone LITE is an attractive and simple to use secure docking station for the MacBook Air®. You can return from traveling with your computer and simply snap it into the LandingZone on your desk and enjoy the benefits of a complete desktop workstation.

Sleek & lightweight
Single step docking & undocking
Makes your MacBook Air lockable
Use with MacBook Air's lid opened or closed
Connect a monitor, hard drive, printer, smart phone, tablet, etc.
Use at home, office, or while you travel

Kensington Security

The Kensington Security Slot ensures optimal security for your MacBook Air or MacBook Pro with Retina display.

2 USB 3.0

2 Built-in USB 3.0 ports allows you to connect multiple peripherals.

Cutout for Thunderbolt port

The Cutout leaves room for you to connect your Thunderbolt port to the MacBook Air, ensuring connectivity with all your Thunderbolt monitors and devices.

MagSafe 2 Power

Use your MacBook's MagSafe power connector to charge your laptop.

LED Status Light

Shows you if your MacBook Pro Retina is running without having to open the lid.

FEATURES

Single-step docking
2 built-in USB 3.0 ports
Lightweight for travel, thin and less than one pound
Built-in Security Slot compatible with all the Kensington® Laptop Locks (sold separately) to secure your MacBook Air®
Supports high-speed charging of iPhone, iPad and iPod
On/Off LED Status Indicator Light
Lever Lock Travel Clip for travel
Charge your MacBook Air while you work with the MagSafe 2 Power Holder

PROPER OPERATING ENVIRONMENT

Operating temperature: 50° to 95° F (10° to 35° C)
Storage temperature: -13° to 113° F (-24° to 45° C)
Relative humidity: 0% to 90% noncondensing
Maximum operating altitude: 10,000 feet
Maximum storage altitude: 15,000 feet
Maximum shipping altitude: 35,000 feet

CARE & CLEANING

Clean with a soft cloth. Do not use water or cleaning solutions to clean LandingZone.When traveling, use the supplied Travel Clip to keep the lever closed

DISPOSAL

Applicable laws may limit how you can dispose of this product. Accordingly, please make sure you follow your local, state, federal, and country ordinances, laws, regulations, or other guidelines to properly dispose of this product and the accompanying packaging materials.


InfiniWing warrants this LandingZone hardware product against defects in materials and workmanship under normal use for the Warranty Period, which begins on the date of purchase by the original end-user purchaser and lasts for one year.

This limited warranty is non-transferable and extends only to the original end-user purchaser. Your exclusive remedy and InfiniWing's entire liability under this limited warranty will be for InfiniWing, at its option, to (a) repair the product with new or refurbished parts, (b) replace the product with a reasonably available equivalent new or refurbished product, or (c) refund the purchase price of the product less any rebates. Any repaired or replacement products will be warranted for the remainder of the original Warranty Period or thirty days, whichever is longer. All products and parts that are replaced become the property of InfiniWing.

This warranty does not apply if (a) the product has been removed or damaged, (b) the product has been altered or modified, except by InfiniWing, (c) the product has not been installed, operated, repaired, or maintained in accordance with instructions supplied by InfiniWing, or (d) the product has been subjected to abnormal physical or electrical stress, misuse, negligence, or accident.

Disclaimers of Warranties Outside of Warranty Period

TO THE EXTENT NOT PROHIBITED BY LAW, ALL IMPLIED WARRANTIES AND CONDITIONS OF MERCHANTABILITY, SATISFACTORY QUALITY OR FITNESS FOR A PARTICULAR PURPOSE ARE LIMITED TO THE DURATION OF THE WARRANTY PERIOD. ALL OTHER EXPRESS OR IMPLIED CONDITIONS, REPRESENTATIONS AND WARRANTIES, INCLUDING, BUT NOT LIMITED TO, ANY IMPLIED WARRANTY OF NON-INFRINGEMENT, ARE DISCLAIMED. Some jurisdictions do not allow limitations on how long an implied warranty lasts, so the above limitation may not apply to you. This limited warranty gives you specific legal rights, and you may also have other rights which vary by jurisdiction.

Limitation of Liability

TO THE EXTENT NOT PROHIBITED BY LAW, IN NO EVENT WILL INFINIWING BE LIABLE FOR ANY LOST DATA, REVENUE OR PROFIT, OR FOR SPECIAL, INDIRECT, CONSEQUENTIAL, INCIDENTAL OR PUNITIVE DAMAGES, REGARDLESS OF THE THEORY OF LIABILITY (INCLUDING NEGLIGENCE), ARISING OUT OF OR RELATED TO THE USE OF OR INABILITY TO USE THE PRODUCT, EVEN IF INFINIWING HAS BEEN ADVISED OF THE POSSIBILITY OF SUCH DAMAGES. IN NO EVENT WILL INFINIWING'S LIABILITY EXCEED THE AMOUNT PAID BY YOU FOR THE PRODUCT. The foregoing limitations will apply even if any warranty or remedy provided under this limited warranty fails of its essential purpose. Some jurisdictions do not allow the exclusion or limitation of incidental or consequential damages, so the above limitation or exclusion may not apply to you.





Simple but effective!

I was looking for a way to lock my macbook air and this worked perfectly! Looks great, portable, and shipped way faster than expected! Thank you!

2014-06-27

Landingzone 2.0 Lite Macbook Air 11 inch Mid 2013

Fast shipping, excellent price for such a high detailed product with a really outstanding quality finish. Since I will soon change to a MBA 13 inch , I will surely buy the Landingzone again

2014-05-08

Great Product

The product work very well!

2014-03-25

To fuzzy to use

Alignment with the USB ports is not perfectly smooth, somethimes a 2nd or even 3rd approach is necessary when fixing the MBA into the dock. This issue is mainly due to the lack of an "official" dock connector as used e.g. on Lenovo Thinkpads. Request for improvement: Please integrate a 2nd clip on the right hand side for the Mini Display adapter, like on the left side for the MagSafe-Connector. It`s not very convenient to plug in this cable every time you dock.

2013-09-12

Landing Zone 2.0 Lite

I received it in good time and, although I had to pay 30% of its value to customs, I am still happy with it. With hindsight, I should have got the 2.0 Pro. Not enough USB ports. I got myself a hub and that problem is solved, BUT I cannot charge my Macbook without ejecting it from the dock. THAT is very annoying!

2013-09-01

Nice locking dock

I've just started using this dock/lock but I think it's very nice an convenient. Much better than the plastic covers that require installing and much better than the stick-on security slot devices.

2013-08-23